We are so grateful to everyone who fundraises in aid of Croí. Your support allows us to continue our life-saving work fighting heart disease and stroke.
A big thank you to Ella and Jack Cosgrave, who donated an incredible €500 in memory of their Dad, Niall, who passed away in 2018 from a heart attack at just 42.
This is the second year they have raised funds for us and we honoured that they chose Croí as a way to remember their beloved father.
21.10.22
A huge thank you to the Killimordaly Hurling and Camogie Club for raising an incredible €𝟏𝟎,𝟓𝟎𝟎 from their #𝟐𝟒𝐡𝐫𝐣𝐨𝐠𝐢𝐧𝐭𝐡𝐞𝐛𝐨𝐠 that took place earlier this year!
Pictured are (Front Row) Louise Brett, Mark O'Donnell, Croí's Chief Operations Officer, Michael Duane, Aoife Cooney
(Back Row) Eamon Burke, Nicola Duane, Mary Hardiman, Shauna Brett, Mary Cunniff, Gerry Hurley.
A massive 𝐓𝐡𝐚𝐧𝐤 𝐘𝐨𝐮 to everyone who supported the fundraiser!
21.10.22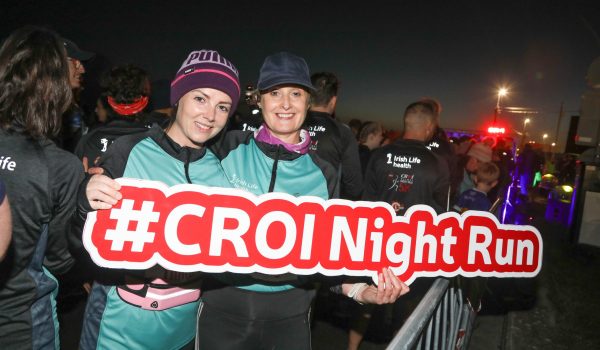 A big thank to Cathy Kelly, our Women at Heart advocate, who raised almost €1200 in memory of her mother, Sheila ❤
We are so grateful for Cathy's ongoing support and advocacy, raising awareness for Women and Heart Disease.
18.10.22
In August 2022, The Charlestown Annual Run took place!
It was a fun-filled day out with food, music, games, raffles, auctions and lots of other entertainment.
The Tractor run raised €10,450 for Croí! A big thank you to everyone involved and for their continued support! ❤️
Paul Cunnane – Project Coordinator, Croí Third Age Mayo Project accepted the cheque from the full Charlestown Tractor Run committee on behalf of of Croí.
Photo by John Corless.
18.10.22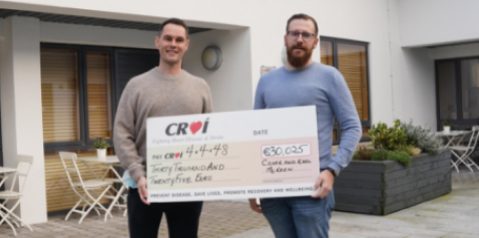 In March of 2021, cousins Karl and Conor McKeon from Sligo ran 4 miles, every 4 hours for 48 hours in aid of Croí, to give back to the charity following support they received before the passing of Conor's father. They raised over €30,000 to support Croí services for people living with, or affected by, heart disease and stroke. Pictured from left: Karl and Conor McKeon with Paul Cunnane, Croí. The cheque presentation took place in Drury's Bar, Monasteraden Co. Sligo on Friday, November 19th, with family and friends in attendance to show their appreciation of the challenge undertaken by Conor and Karl.
26.11.21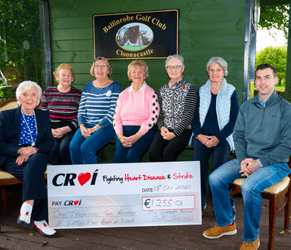 MID CONNAUGHT RETIRED GOLF SOCIETY
The Mid Connaught Retired Golf Society have disbanded after over 30 years in existence. With members from across Mayo and Galway they wanted to support Croí with their donation to ensure all funds raised would be used to support Croí's services in both Mayo and Galway. The group raised €1,255 for Croí.
Pictured are some of the organising committee, from left: Marie Flanagan, Betty Moran, Brenda O'Connor, Frances Burke, Meave Moran, Eileen Comer with Paul Cunnane, Croí Communications Officer.
4.11.21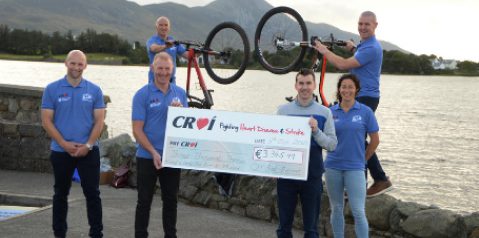 A group of Mayo mountain bike enthusiasts took on an Everesting challenge earlier this summer and in doing so raised nearly €7000, which was split evenly between Croí, the heart and stroke charity, and Mayo Mental Health Services. The fundraiser attempted to raise awareness of the importance of looking after your physical and mental health.
Pictured are the cyclists involved, from left: Brian Hyland, Westport, Padraig McLoughlin, Newport, Colin Loughney, Hollymount and Rachel Nolan, Ballina.
Front: Padraig Marrey presenting the cheque to Paul Cunnane, Croí Communications Officer.
20.10.21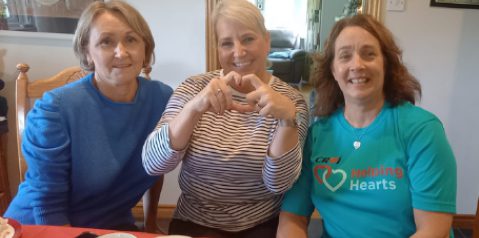 Huge thank you to Eva Flannery and her family for hosting a 'Coffee for Croí' day in their home in Co. Roscommon. Eva hosted this event in memory of Pat Flannery and raised over €4,400 in aid of Croí. Thank you to Eva and to all who donated on the day!
22.9.21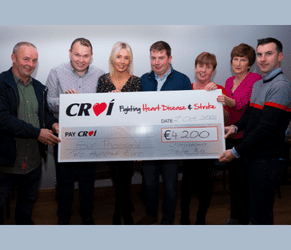 A big thanks to our fundraising group in Charlestown who recently ran a monster raffle in Delaney's Mace, Charlestown. The group raised a massive €4,200 for Croí.
Pictured are committee members and raffle organisers, from left: Mickey Dunleavy, Conor Hambury, Cathriona McLoughlin, Noel McLoughlin, Kathleen McLoughlin, Margaret Lundy with Paul Cunnane, Croí Communications Officer.
13.10.21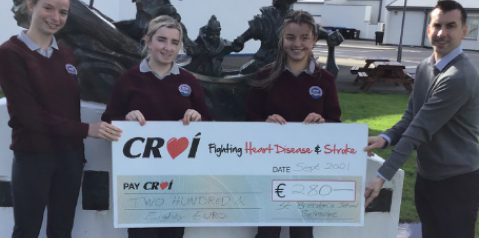 Leaving cert students from St. Brendan's College, Belmullet recently ran a very successful quiz in the school and raised €280 for Croí. Thank you to the students and all involved in the school.
Pictured are the quiz organisers, from left: Rose Tighe, Erin O'Boyle, Lucy Barrett with Paul Cunnane, Croí Communications Officer.
13.10.21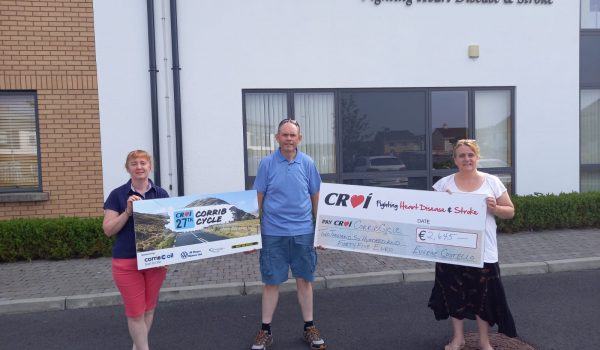 Eugene Costello, from Loughrea in Galway, completed his first ever Croí Corrib Cycle in 2021 and raised an incredible €2,645 for Croí! Thank you Eugene!
6.9.21
We would like to extend a huge thanks to Philip Rabbitt, who completed the 4x4x48 challenge. This challenge involved running 4 miles, every 4 hours, for 48 hours! Philip raised funds in aid of Croí to show his gratitude for the support given to his family after his nephew suffered a stroke. Thank you Philip!
6.9.21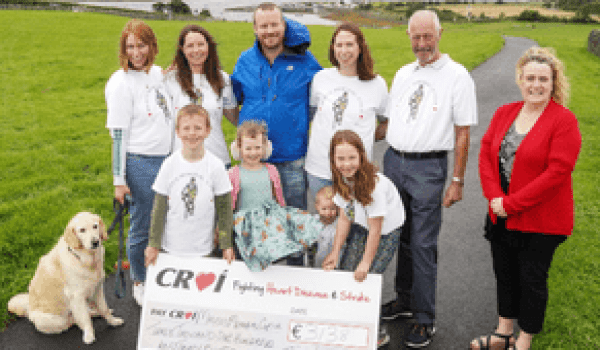 The Wyer Family present a cheque of €3,138 to Croí, the heart and stroke charity, following a cycle fundraiser in memory of their mother, Mary Wyer. Mary, from Salthill, Galway, passed away very suddenly in 2016 at the age of 66 from an aortic dissection.
On the 5th anniversary of her passing, the Wyer family and friends cycled from Galway to Clifden, a route Mary once cycled herself in aid of Autism Ireland. The family raised an incredible total of €10,275, divided between Croí, Brothers of Charity and Galway Autism Partnership.
Pictured in Renville Park, back row L-R: Dee and Rachel Wyer, Colin and Louise Wilson, Roddy Wyer, Christine Flanagan (Croí Director of Fundraising). Front row L-R: Harry, Isabel and Kate Wilson, Emily Wyer.
20.7.21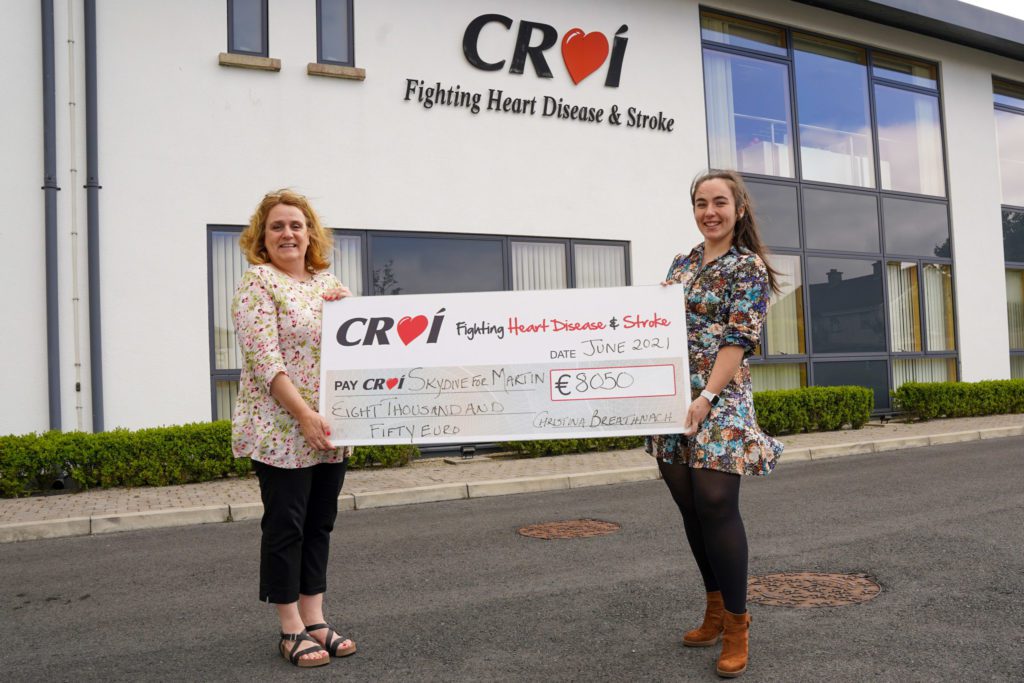 Massive thank you to Christina, who soared the skies and completed a 13,000ft Skydive to raise funds for Croí in memory of her brother, Martin. Christina's brother, Martin Gerald, passed away suddenly at the age of 34 from a heart attack. Christina did this skydive in honour of Martin's 35th birthday and raised over €8,000 for Croí to support our fight against heart disease and stroke. Thank you Christina!
20.7.21