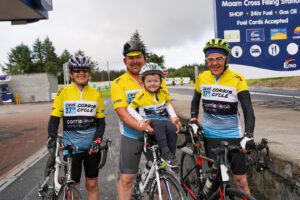 The Annual Croí 'Tour De Lough Corrib' Charity Cycle was cancelled last year due to Covid-19, but a small number of cyclists kept the history of the event alive by completing 'virtual' cycles across Ireland and further afield.
This year, on Sunday July 11th, due to the lifting of Covid-19 restrictions, we were delighted to be able to welcome over 200 cyclists to the 27th consecutive running of our annual charity cycle over three new route options of 40k, 80k and 120k respectively, all starting and finishing at Maam Cross.
Despite the participant number limitation, the event was an outstanding success. Entries were offered on a first-come, first-served basis but unfortunately, Covid-19 safety regulations dictated a limited number of places. To the many disappointed cyclists who could not participate, we offer our apologies and we hope that we can return to more normal numbers in 2022.
We offer our sincere thanks and deep appreciation to our primary sponsor, Corrib Oil, who have been our cycle sponsor continuously since the very first cycle in 1995.
Christine Flanagan, Croí Fundraising Director, says:
"We are thrilled that our first physical fundraising event of the year was a great success, with huge thanks to all our cyclists, sponsors, volunteers and community support. The funds raised will allow us to impact on the lives of many people living with heart disease or recovering from stroke. We are proud to provide so many free support services, including our Heartlink West telephone support line. Thank you for supporting our work and helping us in the ongoing fight against heart disease and stroke in the West of Ireland.
Finally – huge congratulations to Brian MacDonncha, the winner of our fantastic cycling equipment package to the value of €1,000 courtesy of West Side Cycles!".To see all of the pictures from this event, check out our album on Facebook, and follow us on Twitter and Instagram, @CroiHeartStroke.