Cardiovascular Disease ( CVD ) is the leading cause of death & disability in Ireland. 
Once considered 'a man's disease' the number of deaths from heart disease and stroke are now virtually the same for men and women. 
Women at Heart is a campaign by Croí, the Heart & Stroke Charity, to educate and empower women to make their heart health a priority. 
The aim of the campaign is to highlight the prevalence of heart disease & stroke among Irish women.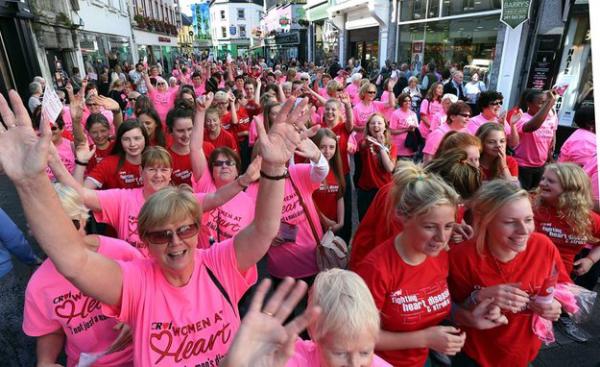 Heart disease is one of the leading causes of death of women in Ireland and worldwide.

1 in 4 Irish women will die from cardiovascular disease.

 

Over 4,000 Irish women die from cardiovascular disease in 2021. That's 4,000 families without a mother, sister, aunt, gran – a loved one!

 

 
Woman often present different to men, and their symptoms can be masked by hormonal changes. Their symptom can be vague in presentation & can come & go, feeling like more "heaviness " or tightness"in their chest area. 
People tend to imagine a heart attack as severe central chest pain. However, in women, this tends to be much more subtle, making it harder to diagnose and treat. Common symptoms include: 
Fatigue/

unusual tiredness

 

Light headiness

 

Indigestion 

 

Discomfort in the

neck /jaw

 

Shortness of breath

 
Sweating

 

Pain in the back

 
The key message is if you don't feel right it's better to get checked out by a doctor straight away. Don't delay! 
The 'Women at Heart' campaign was created by Croí to educate women on their risk of cardiovascular disease ( CVD ) and empower them to make their heart health a priority. 
We are asking you to join forces with the women you love and spread the word about this real threat! 
We ask you to organise a coffee morning, dinner party, fashion show, heart-healthy walk, non-uniform day, or any other event to help us raise funds and spread awareness. 
Join with Croí and empower the women you love. 
Call Croí's free supportline, Croí Connects, on 091-544310 for more information.
We have a range of information resources to help you reduce your risk of heart disease and stroke. Click on the following links: