Croí Surveys Provide Significant Insights on Cardiovascular Disease in over 55's
Croí worked with Ipsos to design and conduct a survey of 400 people aged over 45 in Mayo. The survey was designed to investigate themes related to awareness and understanding of CVD prevention according to adults in Mayo.
Croí Third Age Mayo General Public Survey Results
Putting the spotlight on your heart health, for over 55's
Croí Third Age Mayo offers a new way of thinking about ageing and is specifically designed to promote and support the cardiovascular health and well-being of the over 55 population in the county.
Heart disease, stroke and diabetes are more common as we get older. If detected early, many heart conditions such as high blood pressure, heart valve disease, heart failure and atrial fibrillation (irregular heart beat) can be treated so that people can have a longer and better quality of life.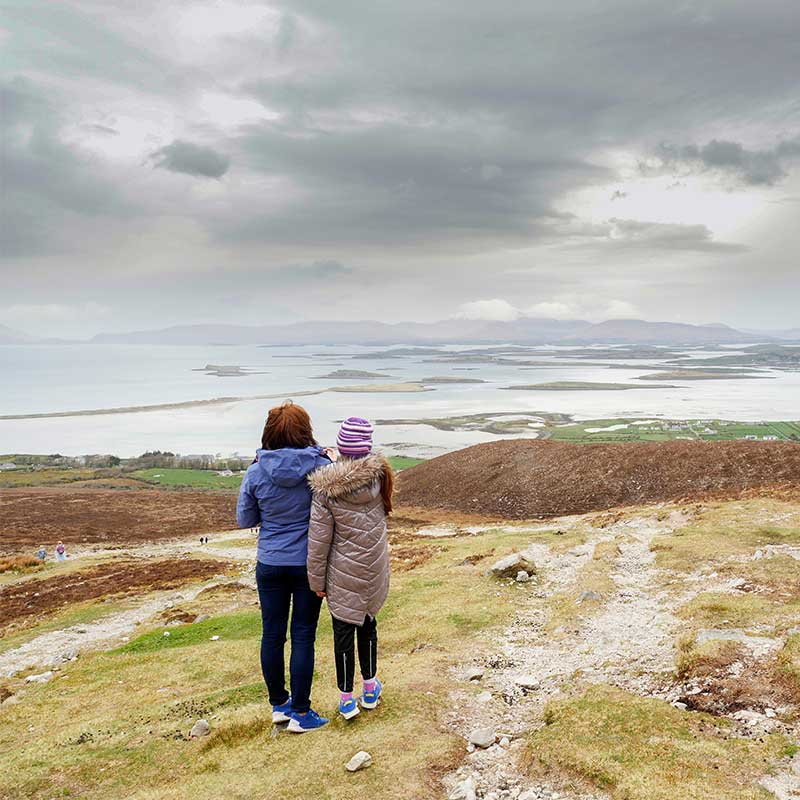 In Ireland and across the world people are living longer. County Mayo has one of the highest rates of over 55's, with almost a third of the population being in this age category. Instead of seeing this as a challenge, we see potential for our ageing population to remain engaged and continue to make a positive contribution in their communities.
Our vision is to develop a culture in County Mayo where promoting cardiovascular health and well-being is a priority for the 55+ population.
The Third Age refers to the life stage 55 years and older, embarking on the next chapter of life into the golden years of retirement.
As we get older, age-related heart disease and stroke become more prevalent. What can you do today, now, to improve your health? Keep making or start making better choices.
Take an active role in managing your health
It's never too early, but also never too late
Look for ways you can improve your physical, mental and social health so you can enjoy an independent and good quality of life
Live a healthy lifestyle.
See Croí's health eating tips
A risk factor is anything that increases your chance of developing heart disease and stroke. There are 2 types of risk factors – those you can do nothing about (age, gender, family history) and those you can change (such as high cholesterol, high blood pressure, smoking, lack of regular exercise, overweight/obesity)
Focus on the risk factors you can change, because there is a lot you can do to reduce your risk and prevent disease. More than 80% of heart disease and stroke can be prevented with lifestyle changes
Know your numbers – this will help you understand how healthy you are.

check your blood pressure
cholesterol
sugar level
weight/BMI/ waist circumference

If you are over 65 years or have a family history of heart valve disease, or have ever been told you have a heart murmur have your health care provider listen to your heart
Learn how to check your pulse to make sure it is regular
Without testing for these conditions, such as high blood pressure, high cholesterol, heart valve disease, heart failure, atrial fibrillation (irregular pulse) and diabetes you probably won't know you have them
Symptoms are often silent but with early detection and management, outcomes can be very good
It's not enough to just know your numbers and risk factors, you need to take control and do what needs to be done for a long and healthy life
Schedule a yearly check up to keep on top of your health
Keep a record of your numbers
Set yourself some healthy goals you can work towards and build on these
If you lose momentum, immediately get back on track to re-establishing a healthy lifestyle
Keep track of your achievements and reward yourself by doing something you enjoy
It is very important to always take your medications as prescribed by your doctor
Get support from family and friends
Stay active and connected to your community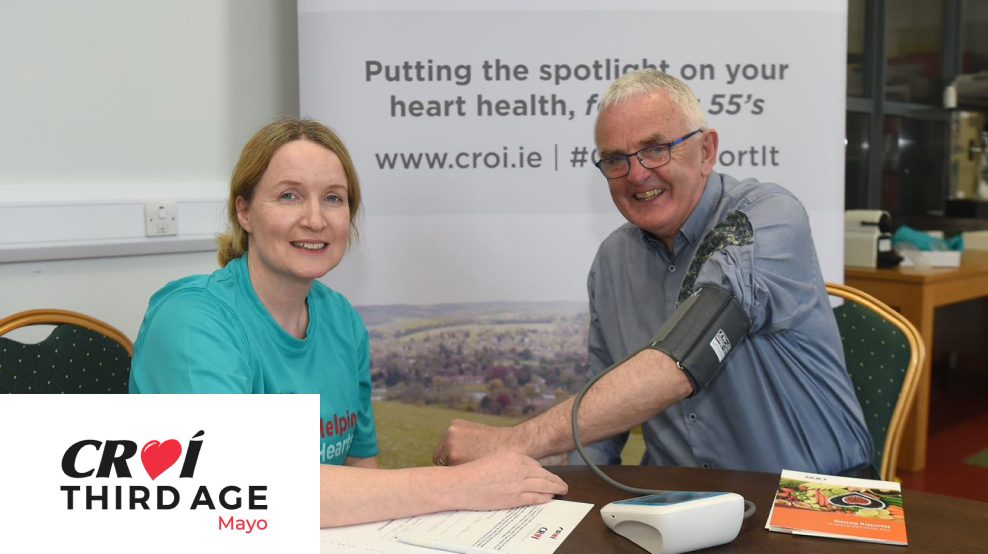 Mayo has one of the highest rates of cardiovascular disease in Ireland. The recent Croí Mayo Action on Heart Disease and Stroke project provided a unique insight into the cardiovascular health of the people of Mayo.
Nearly 50% have high cholesterol
Almost 40% have high blood pressure
Over 30% are inactive
Almost 80% are overweight / obese
Building on these findings, Croí Third Age calls on individuals, communities and all sectors of society to put the spotlight on the over 55's by promoting the key messages of the programme:
Own it. Check it. Sort it.
Our vision is to develop a culture in County Mayo where promoting cardiovascular health and well-being is a priority for the 55+ population.
While County Mayo has been selected to pilot the programme, its impact will play a key role in influencing Ireland's National Healthy Ageing Strategy.