Croagh Patrick Heritage Trail Walking Festival 2023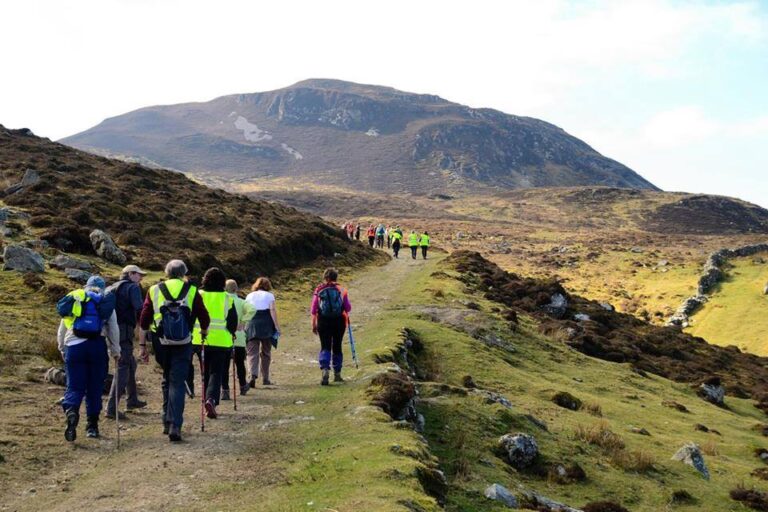 Registration Closed
This event is run by Croagh Patrick Heritage Trail group. There will be a few registration places available on the morning of the event.
The Croagh Patrick Heritage Trail Festival will take place on Saturday 22nd April 2023 in aid of Croí Heart and Stroke. The festival will include a one day guided or self-guided walk along the final section of the Croagh Patrick Heritage Trail, from Aghagower to Murrisk, a distance of 20 kilometres.
Transport will be provided from Murrisk, where ample parking is available, to our starting point at Aghagower community centre.
A variety of accommodation is available in the villages along the trail – see www.croaghpatrickheritagetrail.com
Booking for accommodation should be carried out independently.
The trail is at the heart of rural West Mayo, it includes many outstanding heritage & historical sites and many features of great natural beauty. Services such as accommodation, food & transport links are available in all of the villages along the route.
Linear Trail: Aghagower – Murrisk
Overall Total Distance: 20 km
Level Difficulty: (Moderate/Strenuous). From Aughagower to Skeilp is Moderate. From Skeilp to Murrisk is Strenuous.
Highest point: 310m
Terrain: Woodland, Bog, Forestry, Fields, Boreens & Minor Roads, Mountain tracks with Spectacular rural & coastal views.
Minimum Gear:  Trekking Boots, rain gear, snacks & fluid.
Map Reference: OS Discovery Sheet 31, 38 & 30.
Services: Services available in all of the villages along the route.
ITINERARY
8.15 Assemble in Murrisk car park at the foot of Croagh Patrick

8.30 Bus transport to Aghagower Community Centre for tea, coffee and registration.

9.30 Our walk will commence

11.30 onward: Refreshements/lunch at Brackloon National School

16.00 0nward: Arrive in Murrisk where refreshments will be on offer
Contact:
Croagh Patrick Heritage Trail
Clogher Community Centre
Claremorris, Co. Mayo,
Republic of Ireland.
Telephone: +353 (0)94 9360891
Email:   info@cpht.ie