Anthony O'Brien Memorial "Virtual" Race Day
Sat, 20 Jun, 2020 @ 4:30 pm

-

5:00 pm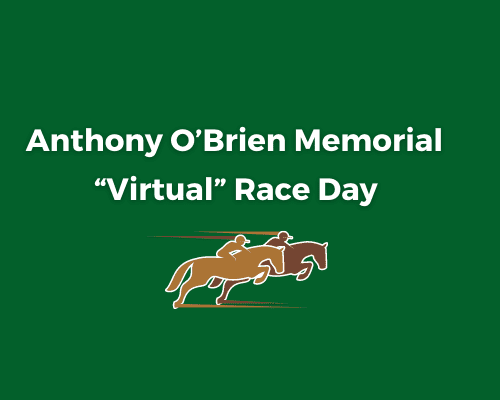 Anthony O'Brien Memorial "Virtual" Galway Race Day, in aid of Croí
*Winners announced! Thank you to everyone who participated*
1

st

 place: Donal Curtin (Limerick) with 60.08

2

nd

 place: Stephen Rice (Dublin) with  24.16

3

rd

 place: Kevin O'Brien (Athlone) with 23.16
In April of 2015 the sudden passing of Anthony O'Brien left his family, friends, colleagues and the community of Athlone heartbroken.  Since his passing, Anthony's family and friends have been committed to honouring his memory by raising funds for the Anthony O'Brien Memorial Fund at Croí, Heart & Stroke Charity. A year after his passing, Anthony's family, friends and colleagues at Corrib Oil organised The Anthony O'Brien Memorial Cycle from Athlone to Galway, raising over €95,000 for Croí. Anthony's family and friends have also supported the Croí Race Day at the Galway Races each year by gathering in his memory and raising much needed funds for Croí. Due to the current crisis, the Croí Race Day has been cancelled but we have decided to organise a "virtual" event on Friday, 31 July in Anthony's memory to raise funds for those suffering from heart disease & stroke.
Please take part in our Galway Race Day event and help raise vital funds for Croí, plus be in with a chance to win one of three great prizes!
Race event: Friday, July 31st, Galway Summer Racing Festival. Your chance to pick the winners across the full race card, where the first race commences at 4:50pm.
HOW TO TAKE PART:
Simply make a donation of €50 through the entry form below
Select one horse per race (8 races in total) from the dropdown form below (which will appear when you start to complete the entry form)
You must enter before 3:30pm on Friday, July 31
Once you have picked 8 horses, just sit back and watch the races!
Competition winners will be announced before end of day Tuesday, Aug 4th, on the Croí website
PRIZES TO BE WON:
1st Prize: The Lodge at Ashford Castle Overnight stay for 2 with Breakfast in a Courtyard Deluxe Room
2nd Prize: Bed & Breakfast for two at the Eccles Hotel & Spa, Glengarrif, Cork
3rd Prize: 3 Course Dinner for two at Shearwater Hotel, Ballinasloe
HOW DOES IT WORK?
For each race, you will gain points if your horse finishes in the top three. The greater the price (odds), the more points you gain. For example – if your horse is returned at 12-1 and finishes first you get 12 points, finishes second you get 6 points or finishes third you get 4 points. So starting price (odds) and finishing in the top 3 places determines the points you gain. Should there be a tie at the end of that day, a race will be picked on the Saturday to determine the winner with the same rules applying.
NON-RUNNERS
If your horse is a non-runner and you discover this before 2.30pm on Friday, you can change your selection by emailing lisa@croi.ie. If there is a non-runner after 3.30pm, you can't change but you will be given an automatic pick.
It's a game of luck so best of luck!