Public Talk In Croí House – Cardiovascular Health and Behaviour Change
22 Nov @ 7:00 pm

-

8:30 pm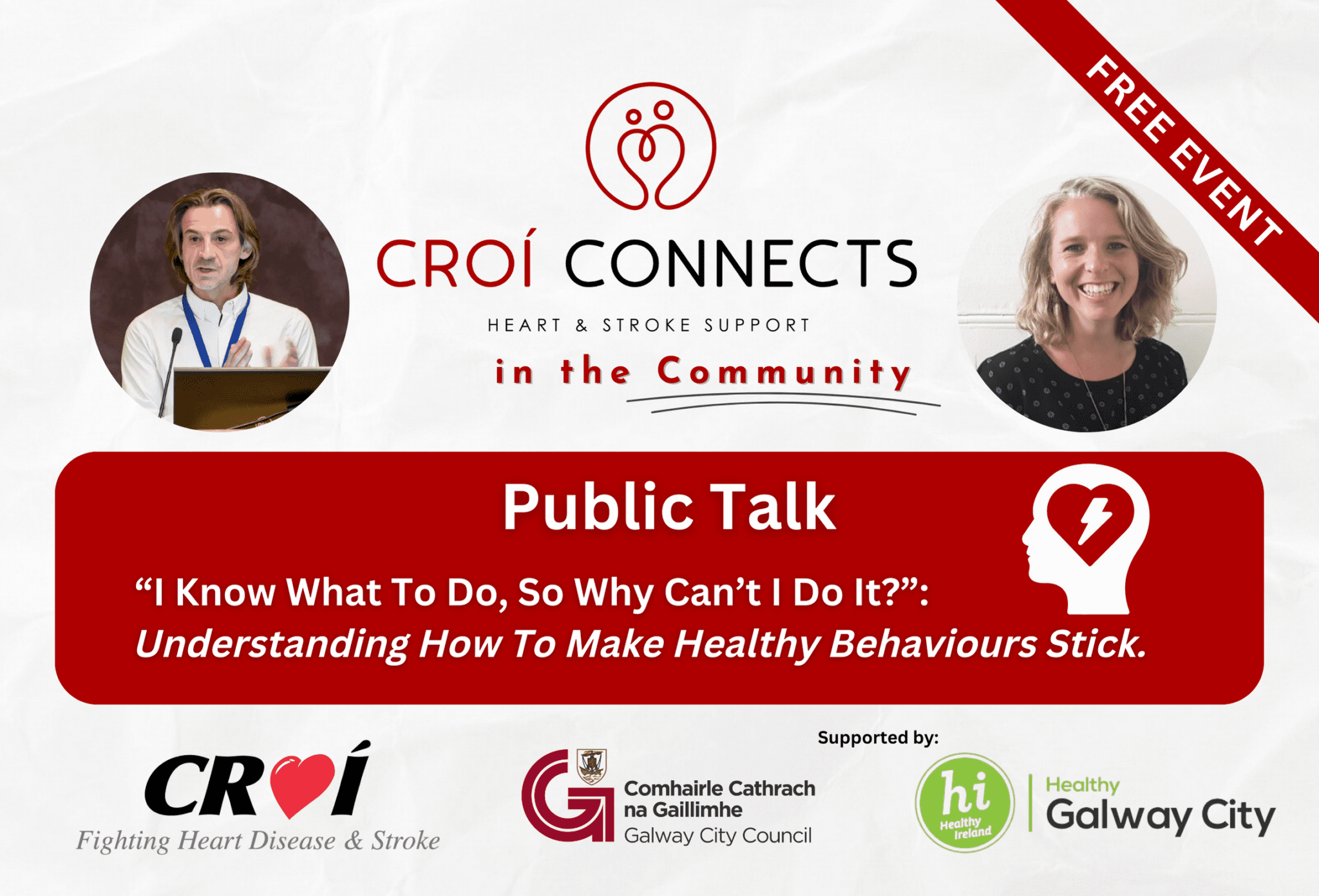 Please call Croí at 091 544310 to enquire about booking
Title: "I Know What To Do, So Why Can't I Do It:
Understanding How To Make Healthy Behaviours Stick
"
Event Details: 
Speaker: Prof Michael Vallis, Health Psychologist from Dalhousie University Canada. 
Date: Wednesday, 22nd November, 2023.  
Time: 7pm – 8:30pm 
Venue: Croí House, Newcastle, Galway, H91 FF68.  
This free event is aimed at those who are living with or affected by cardiovascular disease, at risk of CVD and those who are looking to improve their cardiovascular health by integrating and maintaining healthy habits and routines in their everyday lives.  
This event may be of interest to a wide range of people, such as anyone managing high blood pressure or high cholesterol, people interested in maintaining a healthy weight and exercise regime or anyone who has had a stroke or a cardiac event and is working on lifestyle changes to live well with their condition.  
Hosted by Dr Lisa Hynes, a Health Psychologist and Head of Health Programmes at Croí, the event will include an engaging presentation by Dr Michael Vallis, an expert on this topic and plenty of time for audience questions and discussion.   
Don't miss this unique opportunity to learn from an expert in the field of health psychology and gain a deeper understanding of how to make lasting, positive changes in your cardiovascular health journey. To reserve your spot please visit register using the button below. Limited places available so registration is essential. 
About Professor Vallis 
Prof Vallis is the founder of the Behavior Change Institute and a hugely experienced clinician and consultant in health behaviour change with expertise in cardiovascular disease, obesity and diabetes. He also works as a lecturer in Dalhousie University, Canada and has conducted many research studies particularly focusing on effective communication by health service providers.