Strictly For Croí
4 Nov @ 8:00 pm

-

11:30 pm
TICKET SALE – SOLD OUT!
Thank you to everyone who bought a ticket for the upcoming Strictly for Croí event, with all proceeds going towards the fight against Heart disease and Stroke.
The inaugural Strictly for Croí event will take place on Saturday, November 4th, at The Galway Bay Hotel. Twenty-two dancers, who have undergone a 10-week training program, will take to the stage and put on a fantastic show.
Our amazing dancers will soon be revealed 😍, with all of them performing superbly in rehearsals over the past few weeks with Laura Geary Dance 🕺💃.
Tickets for the event are €30 and will include a Gin/Prosecco and Canapé reception from 6:30 pm before the show kicks off at 7:30 pm.
The show will conclude around midnight, at which point DJ Macca will keep the party going until 2:00 am. So, make sure to bring your dancing shoes too!
Introducing the Strictly for Croí Contestants...
Croí the Heart & Stroke Charity is delighted to bring our first "Strictly for Croí Fundraiser" to the Galway Bay Hotel on Saturday, November 4th, 2023. 
22 contestants have signed up to learn new dance routines over an eight-week period, before they take to the stage and compete in front of you, our supporters on Saturday, 4th November.  
Our contestants will take part in an intensive eight-week training programme, at the fitness studio in Croí Heart & Stroke Centre, Newcastle, Galway under the guidance of a professional dance instructor. We hope that in seeing our contestants progress in their dancing journey, that this will inspire our community to consider taking up a new activity like dancing. Making simple lifestyle changes like this can assist recovery and can prevent up to 80% of cardiovascular diseases. 
There will be 11 couples taking part and they will dance competitively with the overall winners being determined based on 3 main components. Each of these components will be weighted equally and are as follows: 
1:    Funds raised per couple  
2:    Scores given by judges  
3:    Most audience votes on the night (€1= 1 vote) 
So mark the date in your diary, and join us for what will be a very special event… "Get Dancing"!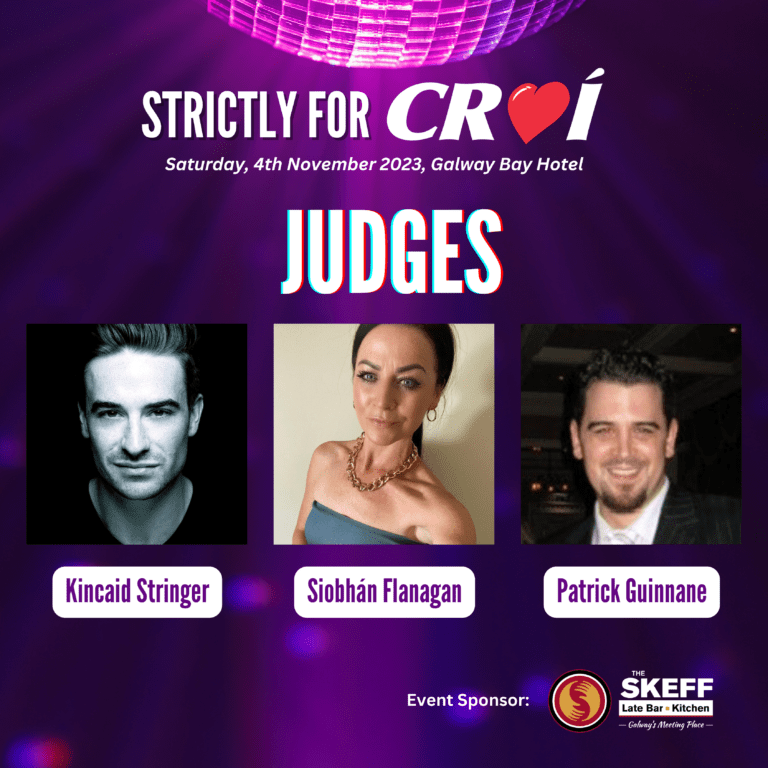 Thank you for your Support!
Our work is funded from the proceeds of fundraising events, like Strictly for Croí and we thank everyone for volunteering their time to take part in what will be a very special production. Your support will mean that we can continue to provide the essential supports to communities such as: 
Developing and delivering free educational, preventative, and healthy lifestyle programmes to individuals, families, and communities.  
Croí Connects our free nurse telephone helpline, provides support for those living with, or affected by heart disease and stroke and connects people with our Cardiac Nurse Specialist, from 9am – 5.30pm each weekday. Our Croí Connects team also host online weekly health chat to provide information and support to people from the comfort of their own home. 
Croí provides accredited education and training for healthcare professionals. Delivering CPR and defibrillation training to the public as well as Cardiac Life Support training for healthcare professionals. 
The Croí Courtyard Apartments, located at Croí Heart and Stroke Centre, which provide home from home patient and carer support at times of Heart and Stroke emergency for those receiving heart or stroke care at Galway University Hospital. 
Strictly for Croí Launch Night
The Strictly for Croí launch celebration took place at
The Skeff Late Bar & Kitchen
. Our amazing cast and the talented choreographer
Laura Geary DANCE
were joined by Deputy Mayor Cllr. Donal Lyons and Patrick Guinnane to officially launch our event and partnership with The Skeff, our sponsor.