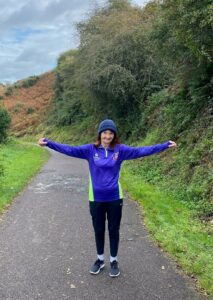 Age is but a number for Mary Hoare. The 80 year old, who lives in Cork, has signed up for Croí's Virtual 5km Night Run which takes place on Friday October 8. This is Mary's second time taking part as she also did the 5km event last year.
Mary was keen to support Croí and the work they do as she has had family members suffer cardiac problems in past. In February 2020, Mary's son John suffered a heart attack while getting into his car. It was only due to the good fortune of a trained medic who was passing the scene that John was immediately attended to and made a full recovery after a number of months of care. Mary said, "John was very young and fit, then one morning he suffered a heart attack getting into his card and it was a very scary time for him but thankfully he is now fully recovered."
The 5km distance will not be a problem for Mary as she recently completed both the Women's Mini Marathon and the Cork Mini Marathon on the same day! The two events had a combined distance of 16km. While earlier this summer she completed 100 Miles in a Month for the Mater Hospital. Mary is also a regular at her local park run in Cork which have recently returned, "They are a great way to get you up and moving, some Saturdays you might not feel like it but once you come back you feel great that you did it."
Ahead of International Day of Older Persons on October 1st Mary is very keen to encourage people to get up and stay active, "Exercise is a great way to keep active and keep moving, it is also great from a social side. Some older people stay in and don't move, but I was always active. I am in walking group that meets every Monday and it is great to get out and meet up with people and get some exercise."Mary is looking forward to tackling the Croí Virtual Night Run on Friday, October 8th. Join with your family, friends or colleagues to run, walk or jog the 5km distance in aid of Croí.