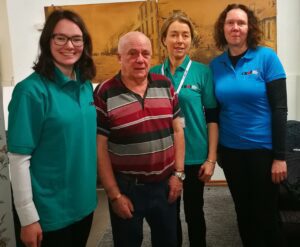 This week is International Men's Health Week! Here is Val's story about taking control of his health:
Val Browne, aged 69, joined the Ballina Men's Shed last year following the death of his wife.
He attended a Croí HeartSmart screening last September in the Shed as part of a health initiative. Val had no previous history of heart disease or particular risk factors, but at the screening a Croí nurse discovered he had high blood pressure and was advised to attend his GP. "I got the shock of my life. I'd be the last person you would think had high blood pressure… I never had any health problems," says Val.
High blood pressure can damage your arteries and increase your chances of heart disease, stroke and suffering kidney damage. Two days later Val still had no plans to see his GP: "The Croí nurse called me and urged me again to see my GP, so I finally went." Val's high blood pressure was persistent, so his GP arranged further monitoring and treatment. "I had no symptoms, but that's why they call it the silent killer," says Val.
He is now very aware of his blood pressure readings and understands that it is important to look after your blood pressure and to keep it at healthy levels. "The Croí screening was the best thing ever. You saved me and you saved one or two more on that day too!" says Val.
Men's Health Matters…Make the Time. Take the Time.