FOR UPCOMING TRAINING, CONTACT CROÍ ON 091-544310 OR EMAIL HEALTHTEAM@CROI.IE
Basic Life Support For Healthcare Providers
This internationally-certified, 2-year course equips any healthcare professional working in hospitals or clinical settings with the skills to recognise sudden cardiac arrest in all age groups, activate the appropriate emergency response, and commence CPR in a timely manner with the use of an AED as soon as it becomes available.
This is a hybrid BLS course with 2 parts:
Part 1: self-directed online learning time (approx. 3 hours)
Part 2: skills-based training in the Croi Heart & Stroke Centre, Galway (2 hours)
Upcoming Training:
When: Thursday, November 2nd
Time: 1:30 – 3:30 pm
Where: Croí House, H91 FF68
The complete Heartsaver AED Course takes approximately three and a half hours to complete and teaches the basic techniques of cardiopulmonary resuscitation (CPR), how to use an Automated External Defibrillator (AED) and the relief of choking for adults, children and infants.
The Heartsaver AED course follows a practice-while-watching video format and is led by instructors who will provide feedback and guide you through the lessons and help improve your CPR technique as you practice on a manikin.
Participants who can demonstrate high quality CPR at the end of the course will receive an IHF/AHA Heartsaver AED course certificate which is valid for two years.
Upcoming Training:
When: Thursday, November 2nd
Time: 9 am – 12:30 pm
Where: Croí House, H91 FF68
Croí delivers a range of certified courses in lifesaving skills, including resuscitation and dealing with life-threatening emergencies such as choking. For healthcare professionals, training of this nature is usually mandatory and Croí offers you an internationally recognised qualification. However, over two thirds of emergencies, such as cardiac arrest or choking, happen outside of hospitals and occur in people's homes, in community places and schools and in the vast majority of cases with a bystander present. Whether you are a parent, a school teacher or a member of the general public being equipped with the necessary skills can mean the difference between life and death. By taking the time to learn about resuscitation and life-saving skills, you could save someone's life.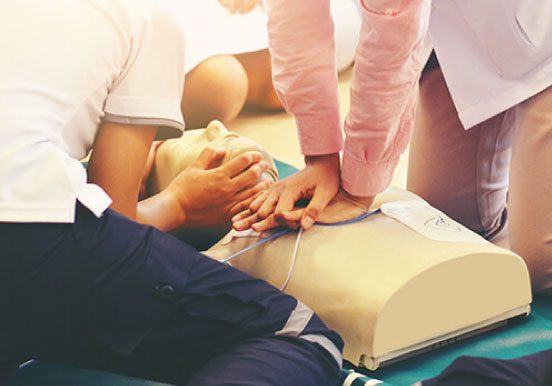 Cardiac First Responder (CFR) Qualification
Who is this course designed for?
This certified course is designed especially for people working in community settings, parents, school teachers and members of the general public. This course is not suitable for healthcare professionals (such as doctors, nurses, physiotherapists) working in hospitals or clinical settings.
Course content:
How to perform cardiopulmonary resuscitation (CPR) and use an automated external defibrillator (AED) in adults, children and infants.
How to manage choking in all age groups
How to recognise and manage a heart attack
When and how to administer aspirin correctly
How to recognise a stroke and what action is required
How to manage an unconscious person, including use of the recovery position
Contact Croí for more details at healthteam@croi.ie