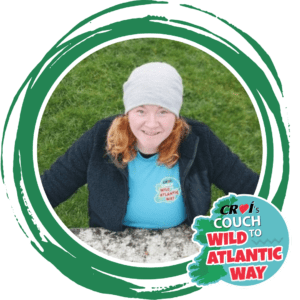 Karen Reid, living in Craughwell, Co. Galway, was 39 when she experienced a Transient Ischemic Attack (TIA) or Mini Stroke in 2019. After being admitted to Ballinasloe hospital, she was diagnosed with a rare, congenital heart condition – Non Compaction Myocardium. Having always lived a healthy and active lifestyle, she was shocked by this diagnosis, thinking 'why me?'. Karen was told by her doctors that due to her rare condition it was likely that she would have experienced stroke at some point in her life. However, it was her stress levels which caused it to happen so young. Thankfully, after counselling and a period of rest, Karen recovered well from her stroke and turned her focus to maintaining a healthy life.
In hospital, she was given an information leaflet with the Croí website. From there, she got tips on how to reduce her stress and other risk factors for stroke. She also
started attending Croí's Heartlink West virtual chats which served as a weekly reminder to keep up her healthy habits.
Six months after her stroke, the country went into lockdown and Karen felt her mood drop – "I found myself wallowing a bit, I felt like it shouldn't have happened to me. But a stroke can happen to anybody," she said. It was then that she saw Croí's Couch to Wild Atlantic Way challenge and decided to sign-up. Karen completed the 6-week challenge and ended up raising over €1,000 for Croí through her iDonate page. Along with her successful fundraiser, the event also helped Karen to come out of the negative mind space she had been in. It got her into a routine of walking regularly and her mood lifted.
Coming up to Christmas 2021, Karen lost her father and grandmother. This great loss set her healthy habits back slightly, but it made her realise how important walking was to her, 'I know now that if I miss my walking, I don't feel as well,' says Karen. She is now looking forward to getting back into her routine and is excited to take part in Croí's Couch to Wild Atlantic Way again this year.
Karen's experience with stroke has made her more grateful for life. It taught her how damaging stress can be to her health and she now puts time into taking care of her stress levels and mental health through walking. "There's so many little things you can change – eat a bit better, walk a bit more, and stress a bit less. Anybody can do that if they put a little time into it."
Join Karen and sign-up today for Croí's Couch to Wild Atlantic Way 6-week virtual challenge!