**A Message From Christine Flanagan, Croí's Director Of Fundraising**
The last two years have brought us all on a journey. We have been through hard times and have dealt with loss in ways unimaginable. However, we have also come together as a community and have supported one another through it all. This Christmas, more than ever, we at Croí Heart and Stroke Charity need your continued support. Our Golden Ticket Raffle is the perfect way to show your giving spirit. 
I hope you'll let me tell you about how your generosity can save lives. It's a story of how support for Croí Heart and Stroke Charity matters to families like in the case of Pat Fox from Elphin, Co Roscommon. And at this time of year, when we hold loved ones close to our hearts, I hope it shows how you can help entire families when you participate in our Golden Ticket Raffle. As we come to the end of 2021, we are in urgent need of generous friends. Two years of the pandemic have dealt a terrible blow to our financial support … but people like Pat don't need us any less now. That's why our Golden Ticket Raffle is so critical.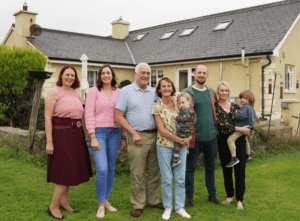 Each ticket costs just €5, and there are so many great cash prizes to win, with a cash fund of €5,000! Even if you only take one ticket, it will help, but please sell as many as you can. They make great gifts, and you'll be providing lifesaving gifts to people like Pat. 
Pat's Story
Pat was a healthy marathon runner as a young man, but decades of long, stressful hours building a business took its toll. In 2005, he suffered a heart attack that required urgent intervention, with Pat needing two stents. Like most people after such a traumatic experience, Pat was frightened and anxious. Every sensation in his chest left him wondering if his life was about to end. His wife and his daughter were even more afraid than he was. When families are confused in the face of heart disease or stroke, they turn to Croí. You can help make sure we're always here. Through the Golden Ticket Raffle, you'll help lead the fight to prevent heart disease and stroke in Ireland. You'll save lives and promote recovery and well-being. 
You see, over the years, Pat made the effort to restore his health. Despite his efforts, Pat's body still struggled, and two years ago, he had a stroke that damaged some of his memory and verbal skills. He has worked hard to recover these and to continue taking steps to improve his health. He found help by accessing free health programmes from Croí including fitness and lifestyle change programmes, and also by checking in by phone with the Croí health team on the Heartlink West helpline when he had questions. Pat told me how life-changing the support of Croí has been: "I spend a lot of time reading food labels. Thanks to Croí, I know what to avoid. Croí taught me that my heart is a muscle. I didn't know that. Now I know I have to exercise that muscle to keep it healthy. I exercise 45 minutes every single day!" 
Pat credits the Croí health programme he completed last Christmas with keeping him alive, and he is now a regular participant in our weekly Heartlink West virtual chats, webinars and exercise classes. Thanks to the support of generous friends, we converted many of our programmes to online when COVID-19 made group meetings unsafe. That turned out to be a lifesaving gift to Pat. 
You see, in March, Pat was doing his usual morning walk when he felt a little strange with some tightness around his chest. At first, he thought maybe it was just something he ate. "In past times, I would have just pushed onward. But because of what I learned from Croí, I stopped. And when the same thing happened the next day, I went to see a doctor." He went in for tests, and it was good that he did because he had a serious blockage in a main artery going to his heart and needed another stent to prevent a heart attack! His doctor said, "If you had kept walking, you would have been in serious trouble."
 If it wasn't for the generous support of people like yourself, Pat may not be with his family this Christmas. Through your support of our annual Golden Ticket Raffle, you will help support and educate thousands of individuals like Pat to help them recover from a heart attack or stroke, and help prevent recurrences. That's how you could save lives!
How You Can Help: The Golden Ticket Raffle 
And that's why I ask you to help make our Golden Ticket Raffle a huge success this Christmas. You can buy tickets yourself or sell them to friends, neighbours, or work colleagues. We even have an online option — just visit www.croi.ie/raffle. 
The raffle takes place on December 20th, so there's even time to request more tickets. Every ticket you sell helps provide education, lifestyle programmes, cardiac research, a home from home in our Courtyard Apartments, and support programmes for families who are dealing with fear and stress caused by heart disease and stroke. 
Pat and his family are eternally grateful to Croí. They encourage you to support the Golden Ticket Raffle this year. Pat says, "As a family, we will never forget the kindness that Croí has shown to us and we hope that we can repay you in the future." In fact, Pat is planning his own fundraising event in aid of Croí as a way of giving back. 
Sincerely, 
Christine Flanagan, Director of Fundraising